By Jackie Valley • The Nevada Independent
Carrying bowls of corn starch, Johnny Smyth attempted to command the attention of the soon-to-be seventh-graders surrounding him in a northwest valley classroom.
Some were fidgeting, scribbling in their notebooks or chatting with their neighbors — only vaguely aware that their 31-year-old teacher needed their cooperation.
"It is very important you pay attention to what the rules are," Smyth said as he placed the bowls in front the students.
From the side of the room, veteran teacher Kenya Jackson cringed and made a mental note to give Smyth a suggestion: Never hand out materials for a science experience without first fully explaining the rules and instructions. Her observation proved prescient within a matter of moments.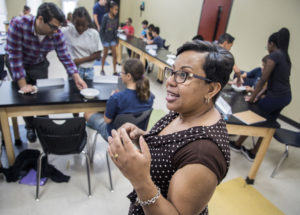 Goofing around, a boy wound up with corn starch outside the bowl before the experiment — making "magma" after a discussion about volcanoes — even began.
"Why is it on your face?" Smyth said, a hint of exasperation in his voice. "Hey, guys. Focus. Do not spill the water. I am going to give everyone a dropper and water."
The classroom activity was as much an experiment for Smyth as it was for the students on a recent morning at Somerset Academy's Sky Pointe Campus. He's a member of Rebel Academy, a fast-track teacher certification program that renders aspiring educators eligible for hire by the fall. The four-week academy, which is in its third year, provides the necessary field experience — hours spent teaching in a classroom — for prospective teachers who already have a bachelor's degree but want to go into education.
When UNLV's College of Education launched Rebel Academy in 2015, it was in response to the Clark County School District's teacher shortage. The school district had more than 800 teacher vacancies when classes started that August. Since then, several initiatives, including Rebel Academy, have helped bolster the region's teacher pipeline and reduce those vacancy numbers.
As of Friday, the school district had 434 teacher vacancies, down from 687 this time last year, school spokeswoman Melinda Malone said.
The 26 teacher candidates participating in Rebel Academy this summer are enrolled in the Alternate Route to Licensure (ARL) Program  at UNLV, which grants them a conditional teaching license after one semester if they complete required coursework and field experience, said Jovita Bayuga, assistant director of UNLV's ARL program and field placement.
It's designed as a win-win for the prospective teachers, local schools and students. Rebel Academy provides free enrichment to incoming seventh-, eighth- and ninth-grade students in the core subjects of social studies, math, science and English, while letting the teacher candidates complete classroom hours during the summer months when middle and high school students aren't traditionally in school.
"The teachers are excited," said Erica Reid, director of Rebel Academy. "It gives them practical experience in a classroom. Even though they're smaller classroom sizes, the realities of it are real for them. Some of them have never been in a school for a long period of time or responsible for planning."
More than half the teacher candidates have full-time positions lined up this fall at local schools, Reid said. With a conditional license, they're eligible to teach one of the subject areas — social studies, math, science or English — at middle or high schools while completing other coursework for full licensure.
This summer's group of Rebel Academy participants hail from backgrounds as diverse as the military, hospitality industry and legal field, Reid said. What they have in common: a desire to forgo their previous careers and start a new chapter as teachers.
"They bring a different perspective," said Reid, who emphasized that the program focuses on the quality of prospective teachers versus quantity. "A lot of them have had lived life experiences that can contribute to the way in which they teach and their perspective on how they deliver content."
For Smyth, this is his chance to fulfill a lifelong dream. He grew up wanting to be a teacher but veered off course and majored in computer science instead. After eight years in the information-technology sector, Smyth took the advice of his 9-year-old daughter who told him that he would be a good teacher.
"I got to the point where I just woke up one day and decided to follow my heart," he said.
The ARL program and Rebel Academy made it feasible for him to do so in terms of time and money, he said. Smyth said he will be teaching eighth-grade science at the Henderson campus of Somerset Academy, a charter school, this fall.
With just seven weeks until the start of the upcoming school year, Smyth listened intently as Jackson, a science teacher at Coronado High School, critiqued his lesson and offered "tricks of the trade" to keep students engaged and him in control of the classroom.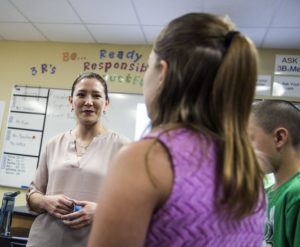 Her pointers: Try not to pace so much. Call students by their names. Explain directions and rules before handing out materials. And keep reiterating why activities are connected to the subject matter. But she also praised Smyth's "natural way" with the students and his great tone of voice.
"Teaching is a lot of experience," Jackson told him. "You have to learn by doing it."
The conversation ended with a high-five as the fledgling teacher thanked his veteran mentor for the feedback and vowed to heed her advice with the next group of students.
Smyth said he doesn't have much jitters in front of the classroom. "If I have fun, they're going to have fun," he said.
For more information, visit: the Rebel Academy website.